Is Hypnosis Effective?
That often asked question can be answered two ways:
1. Research statistics on Hypnosis Effectiveness
The research studies conducted by Dr. Al Barrios and reported widely.  The article referenced below is based on his comparison of hundreds of studies of hypnosis, behavior therapy and psychotherapy.  Also the inventor of the StressCard that changes colors depending on your stress level, his work can be found at www.strresscards.com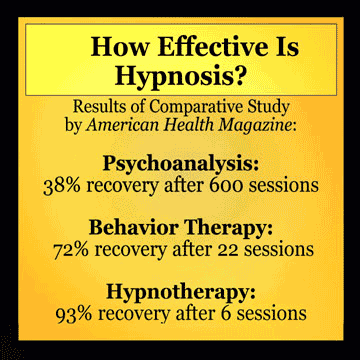 2. Personal Testimonials of Hypnosis Effectiveness:
Hypnosis as Anesthesia   
§►  "Duncan Tooley recently had surgical repair of an abdominal wall hernia.  This procedure was accomplished under his self-hypnosis and only a small amount of local anesthesia.  This operation went very well and was no different than if he had received a general anesthetic. He was discharged from the hospital within an hour of the end of surgery. I have never experienced this before in my 30 years of surgery."  — Jack R. Ludwick, M.D., F.A.C.S.

Hypnosis for Pain Relief   
§► "I have lived with chronic pain from non-diabetic neuropathy for almost ten years. During this time I have spent thousands of dollars on every type of alternative therapy including massage, acupuncture, chiropractic, etc., to relieve my pain. My pain doctor had been able to relieve some of the pain with high doses of narcotics and I have been able to function semi-normally. Recently, however, I have become increasingly depressed from the amount of drugs I was on and the pain I had.
I run a chronic pain group and I had invited Duncan to come and tell us his story of how he used self-hypnosis for relief from his neuropathy. Naturally, I was very skeptical at first, but he was able to relieve the pain of everyone in our group with a few examples of his work and I was sold. I signed up for his next class on self-hypnosis for pain. 
Once I began using the short routine that he teaches, my pain decreased dramatically and I stopped taking 6  Norco (Codeine) tablets daily.  I am now progressing on eliminating the other narcotics I am on. I am feeling wonderful about getting my life back!  My husband and my doctor are both amazed!   I tell everyone I meet to go take the class and learn how to help yourself."  — Jane Smolens.
§► "I am so amazed at how great I feel!  I am so tickled about how well this works! I didn't use any of my pain medicine the next day.  I am now interested in learning about becoming certified in hypnosis to help others.  — Smantha L.
§► "I was suffering from a back injury when I called Duncan to request over-the-phone hypnosis.  I definitely felt relief and more relaxed after my hypnosis session. Now I am enabled to manage my pain and anxiety over my herniated disc."   — Susan Picking, singer & songwriter
§► "Thank you, Duncan!  I was suffering immensely from a fused ankle and the 6 preceding surgeries when I took your class.  I was able to stop the pain and the ankle healed perfectly. Your healthy motto reminder is still on my vanity mirror and I say it every day.  I feel great now!"  — Shelley Fine
§► "The first time Duncan treated me, I was lying on the office floor with my legs up on a chair because my back hurt so much I couldn't sit or stand or walk.  (My wife had to drive me to the appointment because I couldn't drive myself – my pain levels were 9 on the scale of 1-10).  Before our first session, I believed in the benefits of hypnosis in OTHERS, but for some reason, I was afraid that it wouldn't work for me.  Thankfully, I was wrong!  At the end of our first appointment, I was able to stand and walk out of the room unassisted!  My pain level had gone down to a 4!!!  I was astounded!
Today, meditation, visualization and the self-hypnosis techniques Duncan taught me account for about 50% of my on-going daily pain management regimen." – Morgan Kramer

Hypnosis for Attracting Whatever YOU Want   
§► "I was actually a little skeptical going into Duncan's self-hypnosis class for "Whatever I Wanted," but that quickly changed as he guided me down to access my subconscious mind. I had already been working on using my mind to attract what I wanted, but something was missing. For me, self-hypnosis become the missing link to bridge information in my logical mind over to my emotional mind. My wife wanted me to teach her what I had learned, so I did.  She feels that it keeps her mind clear and focused during the hectic workday. We both regularly practice the self-hypnosis techniques together in order to change habits in all areas of our lives: career, relations and even dietary habits. It works great and we feel great! " — Glen Isobe, Insurance Agent
§►  "The session with Duncan really opened up for me awareness of my potential powers that I had not been using."  – Theresa Figuroa
§► "I was in a real emotional state, not feeling good about myself or my future.  Duncan's hypnosis has helped me learn to get through each day with more stability and a positive outlook."  — Yakalene Z.
§► "I was surprised how easily I was able to relax and be hypnotized by Duncan.  I went to a class with 6 other people first, to learn how to hypnotize myself.  Even though each of us was present for a different reason, we were all able to experience the extreme relaxation required to get into a hypnotic state and yet still be able to learn how to repeat it for our own unique purposes.  I enjoyed it so much that I went to see Duncan privately for a while too.  Duncan gave me the tools I needed to remind myself at a later time about why I was using hypnosis to relax myself and achieve greater results"  — Grace St.Claire, Attorney
§► "I met Duncan Tooley through Toastmasters, an association dedicated to teaching leadership and verbal communication. After I heard his story of mind-body healing as the reason he became a hypnotherapist after 35 years of IT, I knew I wanted some of that!
 After the breathtaking drive to his Palos Verdes office, I had my third and truly pivotal hypnosis session with Duncan. I had an incredible realization that got me unstuck and caused a release of joy, tears, and a lot to think about.
He is the personification of Aumakua in Huna, the high self completely loving and trustworthy. His voice is kind and calming, and we were able to turn my situation back into a molehill. If you have a fixation or something stuck, Duncan is the right person to help you get it out!" – Doug Field

Hypnosis for Getting Organized and Focused   
§► "I attended Duncan's class seeking a remedy to my lifelong challenge with time management and procrastination.   For years I lived with the undue pressure of leaving everything until the last minute, often sacrificing quality because of inadequate time and preparation.  As a business consultant, time is money, and time management is crucial to success. 
Duncan's self-hypnosis class was remarkable!  His simple, easy to use techniques have helped me identify harmful tendencies and quickly remedy them.   The affirmations he provides are a wonderful tool I use as a daily reminder to stay on the right track.
Over the years I have invested in time management seminars, tools, and tips.  Duncan's class was by far the most effective, and the most enjoyable! Thanks to his expertise, I now spend my time more productively, and I have more time for the people and activities that matter in my life!"   —  Paula Harolde, Owner/Principal, Paula Harolde Training & Consulting

Hypnosis for Fears & Anxiety   
§►  "I went to Duncan because I had recently become uncomfortable in elevators and found myself avoiding certain buildings and situations to avoid taking the elevator.  I realized I couldn't live like this, and the hour I spent with Duncan was transforming!  He not only helped find out what was causing it, he gave me tools that I still use to this day when stressed in an elevator, that absolutely work.  Today I take elevators a lot – I have one where I live! He is a gifted and kind man, and I strongly recommend his hypnotherapy services." — Mary Lynn Miller
§► "I am starting a new business.  I went to see Duncan because I was feeling anxiety about my ability to actually build and operate my own business.  These negative thoughts were undermining my self-confidence and blocking me from realizing my goals. In one hypnosis session, Duncan enabled me to see that my anxiety was not based on reality, but rather on some unconscious habitual thoughts that were completely baseless and false!  Since the session I have felt much more happy, calm and in control. I affirm to myself every day that the things I learned (with Duncan's help) about myself and the prospects for my future success are true.  Today I am confident that the path I have chosen is the right one for me, and that I am on my way to creating the prosperous and rewarding career that I always dreamed of.  Duncan helped me banish negative thoughts that had been plaguing me for a very long time.  He can do the same for you!" –Leslie Hart
Hypnosis for Finding Things Lost   
 §► "I didn't know much about hypnosis except for what I have seen in movies and it looked like a lot of silliness to me.  But my experience with Duncan completely changed my mind. I first met Duncan when we lost my engagement ring 3 weeks after being engaged.  After having it lost for 5 days I was desperate to find it. So someone suggested hypnosis so we found Duncan. The experience was amazing. Not only did we find the ring but while I was under I saw a part of myself that I thought had been lost after years if just a trying and difficult life. I went back to Duncan a second time to see if I could bring back that more optimistic and happy side of me. And once again Duncan's skills did not fail me. Come see Duncan, you will not be disappointed. We have since sent my husband to work on a few things to help our relationship, because we all know how well men communicate. Ha, Ha! As soon as my husband left Duncan, he was a new man. If you are looking to better your life see Duncan."  — Diane Schaffer
Hypnosis for Cravings & Weight Loss   
 §► "Duncan Tooley was instrumental in helping me lose weight and keep it off. The hypnosis with accompanying materials was an excellent resource for me to consistently teach my mind to think positively about weight loss and reap the benefits of weight loss. I have averaged 3.5 pounds per week and have lost more than 43 pounds and have kept it off. I highly recommend this program for weight loss!"  — Debra K Primeau
§► "I never thought that I would say that I had been hypnotized until I sat on Duncan's recliner.  I found my experience relaxing and mind opening.  Not only was I successfully able to turn down my craving for diet soda, but I am also sleeping better.  I'd highly recommend Mr. Tooley for the amazing work that he does."  –Kevin Hirai
Want More Proof?  
See the list of Medical Benefits and the Medical Studies that confirm those benefits.